Click "Public Health Week" for more info. 
Join us in celebrating Public Health Week! April 3- April 6. There will daily drawings for prizes, check out our Facebook page for details every day! We can become a healthy Missouri by 2030, but we can't do it alone! Ask us how YOU can help!
Click the picture below to see our Facebook page!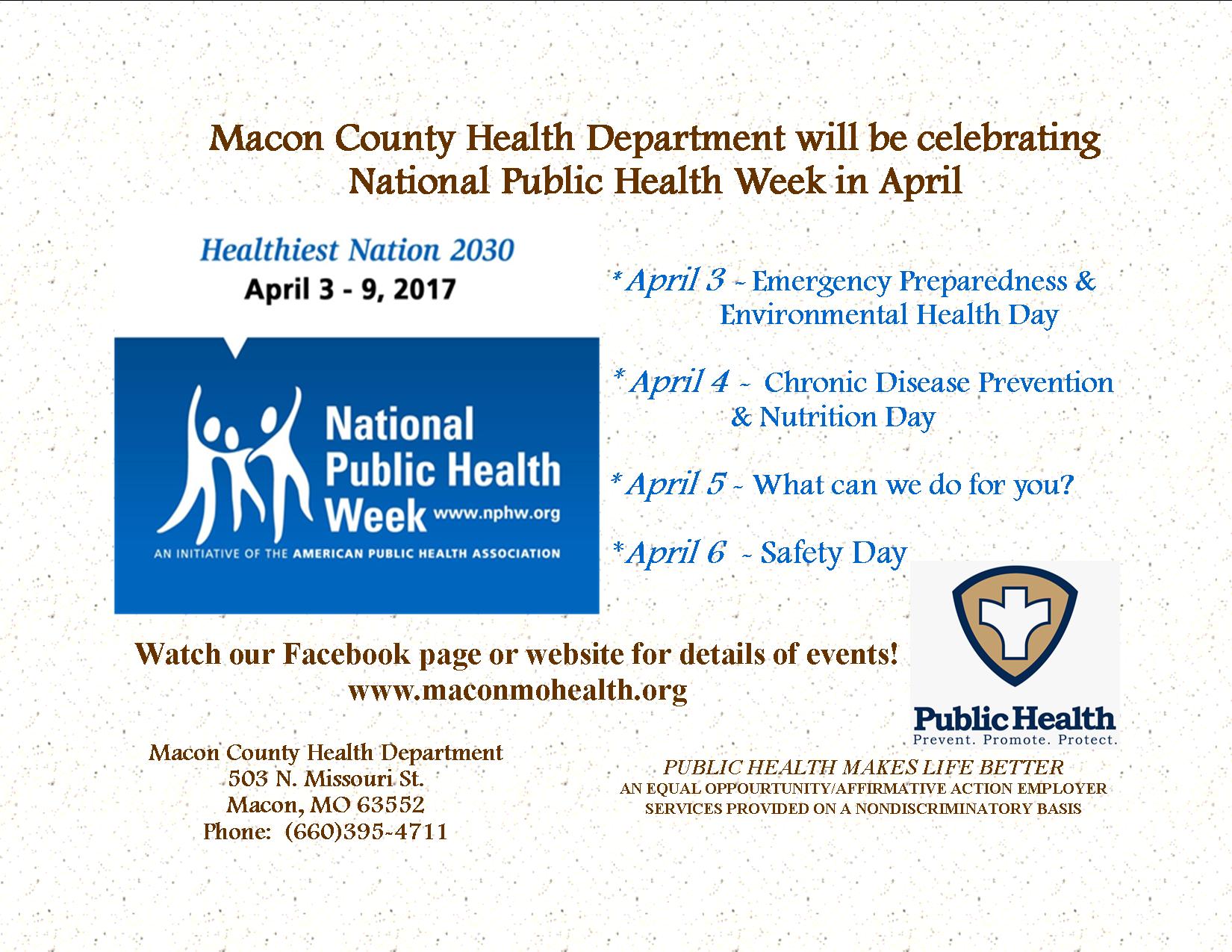 April 3 – Emergency Preparedness & Environmental Health Day:
Information on how to prepare you, your family, and our community for an
emergency will be on display in the office.
The Community Volunteer Corps will have a table set up at the health
department with information on the group and how to join!
Display table will be set up in the lobby with information on ticks, rabies, mosquito's and other environmental health topics. 
April 4 – Chronic Disease Prevention & Nutrition Day:
Free Cholesterol screenings to the first 4 participants this morning!
 Join us on our annual "Walk to a Healthier Lifestyle" walk downtown at 2 pm *FREE pedometers to all participants*
Visit our display tables in the lobby with information on:

Heart Disease
Diabetes
Cholesterol
Blood Pressure and more

Drawing for kids activity bag! 
April 5 – What Can Macon County Health Department Do For You?
We will have an information booth at Macon Wal-Mart from 2p-4p.
Birth & Death Certificates
Immunizations
INR Checks
Blood Draws
Blood Pressure
Cholesterol Screenings
Environmental Services
WIC
School Health Screenings
Ear Wax Removal
Drug Screening
Breastfeeding Support
Prenatal Classes
April 6 – Safety Day
Kids Safety Activities and car seat checks from 2p-5p
Safety booths all day!
Meet Rupert the dog!