Eating well and physical activity are two important tools to help your family get healthy and stay healthy.  Many of those habits start at home and are supported through many areas throughout childhood and adulthood like school, activities, hobbies, family members, and culture.  At the Macon County Health Department, we are here to encourage healthy living through attainable change, like encouraging healthy eating and physical activity.
The Macon County Health Department chose a focus area for their 2022-2026 Maternal/Child Health program to reduce childhood obesity through encouraging healthy eating and physical activity.
At the Macon County Health Department, we strive every day to prevent, promote, and protect the health of all Macon County residents to help your family get healthy and stay healthy. Health starts at home; we are here to support and encourage your family in building healthy habits and to help children grow into healthy adults.
We have created a grocery store guide to help make it easier for you to make a meal plan, shop smart, keep to your budget, and help keep food fresh for longer.  We also have resources available such as the weekly meal plan, shopping list, and kids scavenger hunt game for the grocery store for you to use.
Download a FREE copy of our grocery store guide
Eat Healthy
Make every bite count by filling your plate with a wide variety of foods at each meal.
Lean proteins – seafood; meat, poultry, and eggs; beans, peas, and lentils; and nuts, seeds, and soy products
Fruits – a wide variety can include apples, bananas, oranges, kiwi, peaches, plums, avocados, grapes, berries, and many more
Vegetables – a wide variety can include tomatoes, broccoli, cauliflower, carrots, squash, potatoes, corn, peas, radish, leafy greens, peppers, and many more
Whole grains – bread, rice, oats, cornmeal, barley, cereal products, and pasta
Low-fat dairy – milk, yogurt, cheese, lactose-free milk, and fortified soy milk and yogurt.

Non-dairy sources of calcium include calcium-fortified juice and plant-based milk (almond, oat), canned fish, tofu, and some leafy greens
Eat a rainbow of fruits and vegetables daily to help increase your intake of all vitamins and minerals – this means simply adding color to your plate – the more colors the better!  Plan ahead to help save time, money, and the nightly question of what to make.  Fresh, frozen, and canned fruits and vegetables are all great choices – the most important part is adding more of them to your diet.  Most adults need 5 servings of fruits and vegetables per day.  Are you reaching that?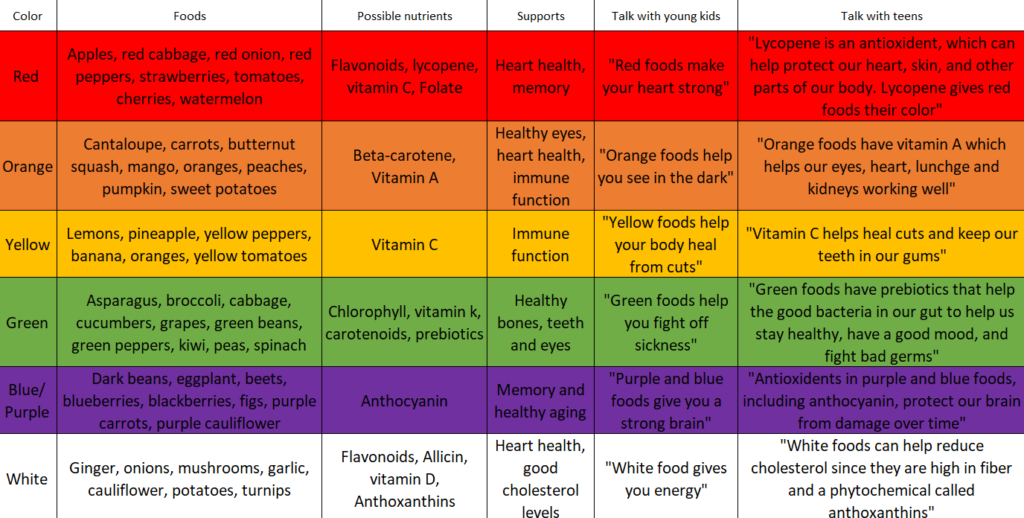 Talking with your kids about what foods are good for them can help them start to make healthy choices starting in childhood.   Creating healthy habits starting in childhood will carry through to adulthood, creating healthier adults.  Kids may not accept new or unfamiliar foods right away, but continued exposure can help them be more accepting over time.  Kids learn through play! Have fun at mealtime (when your energy allows it) and let them be a little silly as a way to be willing to interact with their foods.
Here are some healthy recipe ideas you can make for your family
Need some help with healthy eating? Our nutritionist is available to you as a free service of the Macon County Health Department.  Call for an appointment at 660-395-4711.
Choose Healthy Drinks
What should your child drink? Mostly water and milk.  A small amount (4 oz per day) of 100% fruit juice can add more fruit to your child's diet, but whole fruit would be more beneficial.
Water helps keeps joints healthy, is good for teeth, helps blood circulate, helps maintain a healthy weight, and helps with concentration, mood, and focus in children. (American Academy of Pediatrics)
Water can be introduced around 6 months of 4-8 oz per day, with the introduction of solid foods.  Recommendations increase with age to about 4 cups of beverages per day (water or milk) for ages 1-3, 5 cups per day of beverages (water or milk) for ages 4-8, and 7-8 cups for older children.  Amounts needed can vary based on activity level and environmental conditions.
Avoid drinks with added sugars such as soda, sports drinks, fruit punch, and sweet tea. These do not provide nutritional benefits, can prevent children from eating the foods they need, and can create unhealthy habits that are carried into adulthood. Added sugars and calories from sugar-sweetened beverages can lead to excess weight gain, cavities, diabetes, and other health conditions. Drinks with artificial and low-calorie sweeteners are not recommended, as they are not understood enough to know the long-term effects of serving them to children.
Here are some tips on staying hydrated –
Serve water throughout the day, allowing your child to drink when they are thirsty.
If your child isn't a big fan of water (yet!) try allowing them to pick out a special cup with their favorite characters on it that is only for water.
 Your child can drink plain water, they don't need flavoring. However, if you would like to add flavoring, try adding fruit or herbs like strawberries, lemons, or mint.
Some fruits and vegetables are high in water content that will add to your hydration status: watermelon, cantaloupe, cucumbers, celery, tomatoes, and zucchini
Be a role model – let your child see you drinking water, they will want to be just like you!
Physical Activity
Regular physical activity can improve mood, help you maintain a healthy weight, reduce stress, improve sleep, and reduce your risk of chronic diseases such as diabetes and high blood pressure.  It is recommended that children up to the age of 5 are active throughout the day and children ages 6-17 get at least 60 minutes of physical activity each day.  Do whatever kind of physical activity that you enjoy and that you will continue to do each week.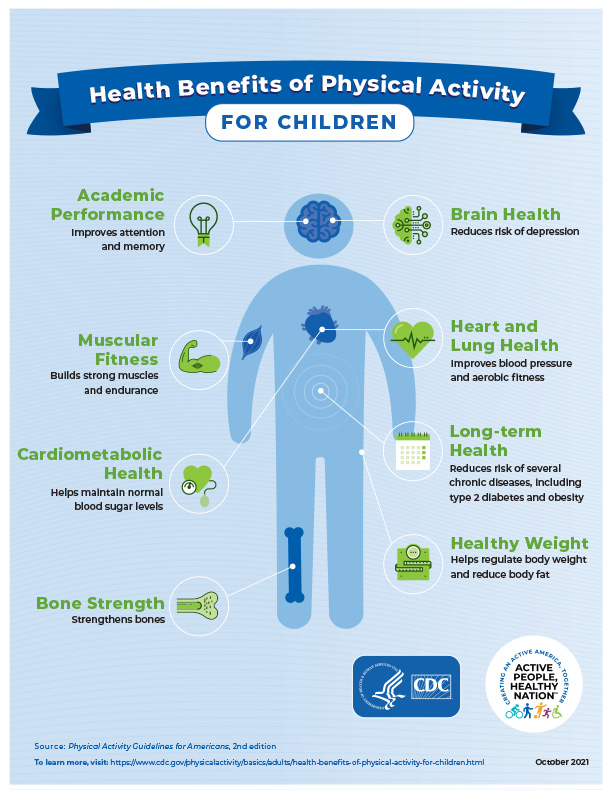 Here are some ideas of physical activities to do at home with your family –
Scavenger hunt around your neighborhood or yard
Everyone in the family picks out a song to dance to (outside or inside).  Play them back to back and dance!
Activity stations – set up cones/buckets/whatever you have laying around and have an activity at each such as 10 jumping jacks, hop like a bunny, 15 toe touches, skip to the next station, etc.
Fill the bucket game: each person has their own bucket, using a sponge, run back and forth between buckets emptying the water
Deep clean the house – scrubbing, mopping, dusting – the movement all counts as physical activity, plus the house will feel nice being cleaned!
Water balloon fight!
Play a game of family charades. You can pick different characters based on the seasons, upcoming holidays, or your favorite movie characters.
If you are looking for some activities for you and your family in Macon County, check out these locations:
Education
The Macon County Health Department offers a variety of educational services to empower the families of Macon County to make the healthiest decisions that best align with their goals and lifestyle.
WIC is a supplemental nutrition program that provides assistance to help you purchase healthy foods at the grocery store, personalized nutrition education, and health and social services support to encourage healthy growth and development from pre-birth to age 5.
Breastfeeding Support Groups – Breastfeeding provides a wide range of nutritional and health benefits to mom and baby. If breastfeeding is the best way for your family to feed, we are here to support that and connect you with other breastfeeding moms to continue that support.  Join us on the last Tuesday of each month at 3:00 for our breastfeeding support group!  This group is open to all pregnant moms, breastfeeding moms, and those around to help support the breastfeeding mom and baby.
Prenatal classes – Held periodically throughout the year, prenatal classes help provide new moms with knowledge about the stages of delivery, car seat safety, safe sleep for infants, immunizations, and other newborn care information that is helpful to know before welcoming your new child into the world.  Open for both pregnant moms and their support person to answer questions and give you confidence for when your baby gets here!
Nutrition Education – meet with our Nutritionist one-on-one to help get your nutrition questions answered, make dietary changes to meet your health goals, and work together for accountability and to create long-lasting habit changes.  This free service of the Macon County Health Department is here to meet you where you are and work together to get you where you want to be.
This project is/was funded in part by the Missouri Department of Health and Senior Services Maternal Child Health Services Program, Contract #DH220051105, and is/was supported by the Health Resources Services Administration (HRSA) of the U.S. Department of Health and Human Services (HHS) under grant #04MC40144, Maternal and Child Health Services for $12,299,305, of which $0 is from non-governmental sources. This information or content and conclusions are those of the author and should not be construed as the official position or policy of, nor should any endorsements be inferred by HRSA, HHS or the U.S. Government