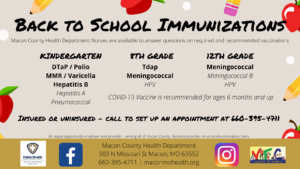 Vaccines are safe and effective. Vaccine-preventable diseases are at an all-time low thanks to more people being vaccinated, saving lives and millions of dollars in health care costs, but this doesn't mean the diseases have disappeared. Many viruses and bacteria are still circulating. This is why it is important for everyone to receive all of the recommended immunizations on time.
Most vaccine-preventable diseases are caused by germs called viruses or bacteria. Vaccines to help prevent these diseases generally contain weakened or dead viruses or bacteria specific to the disease.
Vaccines help your body recognize and fight these germs and protect you each time you come in contact with someone who is sick with any of these diseases.  The recommended vaccine schedule balances when a child is likely to be exposed to a disease and when a vaccine will be most effective.
Missouri's immunization program is working to stop the spread of vaccine-preventable diseases by providing vaccines to children and adolescents who are uninsured or underinsured through the Vaccines for Children Program; educating healthcare professionals, medical providers, and the public on the importance of vaccinations; and ensuring that children who are in child care and school are adequately immunized against diseases that are harmful and sometimes deadly.
There are required and recommended vaccinations for children to attend school in Missouri.  The Macon County Health Department has these vaccinations available and can answer any questions associated with them.  Get immunizations checked off your back-to-school to-do list early!
Call 660-395-4711 for more information, cost information, or an appointment.  The Macon County Health Department nurses are your vaccine experts in the community to help answer questions on required and recommended vaccines.
*We recommend that you bring your immunization record with you.
Immunizations Available for Children and Adults include:
Bexsero (Meningococcal B)
DTAP-(Diphtheria, Tetanus and Acellular Pertussis)
Influenza -seasonal
Gardasil-(HPV Vaccine)
Hepatitis A and B
HIB
Menveo-(Meningitis Vaccine)
MMR-(Measles, Mumps and Rubella)
Polio
Pneumonia
Rotarix-(Rotavirus )
Td-(Tetanus and Diphtheria)
Tdap-(Tetanus, Diphtheria and Pertussis)
Varicella-(Chicken Pox Vaccine)
Complete the following form and a Health Department employee will call you to schedule an appointment for your vaccinations during business hours:
Recommended immunization schedule, click on the picture to enlarge: