Flu vaccine is a safe and effective way to help prevent the flu and severe outcomes of the flu.

Flu vaccine will be available throughout Macon county at drive -thru clinics in October, at schools for students and at the Macon County Health Department throughout flu season, beginning in September.
Bring with a copy of the front and back of your insurance card
Drive Thru Flu Clinics
Vaccine will be available for adults
Vaccine will be available for students age kindergarten-12th grade.  Under 18 must have a parent or guardian signature.
Bring your insurance card, cash or check
Wear a short sleeved shirt as vaccine will be given in the arm
Due to close contact, masks are required
Dates –
School Flu Clinics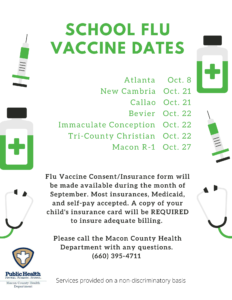 Flu vaccine consent forms and insurance forms will be made available during the month of September at school and available on our website.
Most insurance, medicaid and self-pay accepted. A copy of your child's insurance card will be required to insure adequate billing
Dates –
Atlanta – October 8
Macon R-IV (New Cambria) – October 21
Callao – October 21
Bevier – October 22
Immaculate Conception – October 22
Tri-County Christian School – October 22
Macon R-1 – October 27