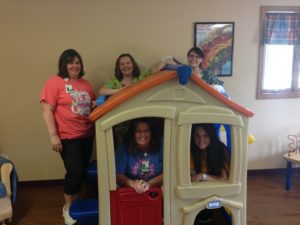 Macon County WIC is open during the COVID-19 Pandemic. Our operations and procedures may change, please call our office with questions or concerns. 
Click here if you are interested in signing up for WIC!
The Women, Infants, and Children Program, also known as the WIC Program, is a federally funded program through the Department of Agriculture. The goal of WIC is to provide nutrition education, health assessments, and food vouchers for pregnant, breastfeeding, and postpartum women and families with infants or children under 5 years of age. Participation in WIC is based on nutritional risk and income eligibility.
Primary services provided by the Macon County Health Department include health screenings that includes dental, lead, and hemoglobin screening; risk assessment; nutrition education and counseling; breastfeeding advocacy; and health care referrals. We have a Breast Pump Loan Program that brings a valuable resource to the community at no charge.
WIC has transitioned to an eWIC card with benefits! This allows participants to use their eWIC benefits as they need at the store, allows for faster checks out, and reduces the need for paper checks. Participants can purchase their WIC items and non-WIC items in the same transaction at the grocery store.
For breastfeeding support, call or text our Breastfeeding Peer Counselor directly at 660-346-7275.
Questions on the WIC program, please click on the following links:
Information for Healthcare Providers
Missouri WIC Eligibility & Income Guidelines
Missouri WIC Approved Food List
Please call 660-395-4711 to schedule an appointment regarding WIC.
Note to current Macon County Health Department WIC clients – if you are unable to keep your appointment, please be sure to call ahead to reschedule your appointment.  Should you miss your appointment we are unable to guarantee that we can issue your WIC check on a walk-in basis. The health department does not provide WIC services on all business days so be sure to call ahead to reschedule your appointment so that you do not miss out on your benefits.
WIC Nutrition Education
Would you like to complete your WIC Nutrition Education before your appointment and save time when reloading your eWIC card?  Simply:
Go to WICHealth.org
Create an account and set up your profile – you will need your household ID number found in your folder.
Choose a lesson that interests you
Complete the lesson.
Fill out the survey.
Print or email your certificate of completion.
For related forms, click on the following: 
WIC-27 (special formula medical certification form)
WIC-40 (WIC vendor complaint form)
Breast pumps are available to moms on WIC for use during their breastfeeding journey.  If you are needing one, please call our office and ask for Stacy or Jessica. 
Our breastfeeding peer counselor demonstrates how to assemble and disassemble her breast pump for your reference.