COVID-19 is a virus that is spread through the respiratory droplets of an infected person.  The best way to protect yourself against COVID-19 is through vaccination, which is available for ages 6 months and up.  For appointments for COVID-19 vaccines, call 660-395-4711 or request an appointment online.
An updated COVID vaccine for fall 2023 has been approved by the FDA and will be available for those who have not received a COVID-19 vaccine in the last 2 months.  Bother Pfizer and Moderna vaccines (mRNA) are approved for ages 6 months and up.  The Macon County Health Department plans to administer these vaccines, but does not have them in stock yet. We expect to in the next few weeks; check our website, Facebook page, or call our office for updated information.
The Macon County Health Department offers free COVID, flu and RSV testing for those who are symptomatic.  If you would like to be tested, individuals need to call ahead, a staff member will come out to administer the test in your vehicle, and then call with results.
If you test positive for COVID-19, self-isolate away from others so you can reduce spreading the virus.  A health department employee will contact you for your contact investigation.  No contact tracing takes place on the weekends.  If you test positive on the weekend, self-isolate, and contact your close contacts, a health department employee will contact you on the next business day.  If you have health concerns, contact your health care provider or urgent care; if severe, contact 911.
As of April 1, 2022, the state of Missouri announced a transition from pandemic response to endemic response to COVID-19.  This change to endemic does not mean the end of COVID-19; it means that the disease is here to stay, and, that we have the resources to manage the disease in our daily lives.  These resources are meant to keep Missourians safe and healthy.  Vaccination against COVID-19 helps protect individuals against severe illness and hospitalization due to COVID-19.  With the change to the endemic, we accept that COVID-19 will continue to circulate, but with vaccination, it can reduce the burden of illness to keep your family healthy.
The Macon County Health Department reported the summary of COVID-19 throughout Macon County from February 2022 – January 2, 2023 to help share the picture of COVID-19 and flu throughout our county over the past year.
---
Symptoms
People with COVID-19 have a wide range of symptoms that range from mild to moderate but may include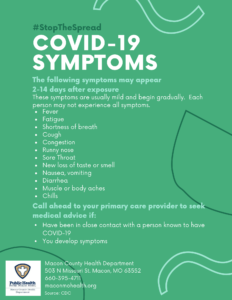 Allergy symptoms: congested, runny nose, sneezing, eyes burning

Nose burning, feeling like it is swollen

Body aches – maybe even 1 certain spot on the body hurts only

Headaches
Dizziness

Diarrhea, Vomiting, Nausea (some only symptom is Diarrhea)

Cough

Shortness of breath

Fever

No taste or smell
Children:
Fever/headache maybe last 24-36 hours and then they are fine

Vomiting and diarrhea
COVID-19 can cause a mild to moderate illness, but can be fatal and is expected to be the worst for the elderly and those with other chronic health conditions. Symptoms are expected to appear 2-14 days after being infected.  Some may not experience any symptoms at all but could infect others, which is why it is important to create that social distance between yourself and others.
Older adults and those with underlying health conditions seem to be at higher risk of developing more serious complications from COVID-19. However, everyone is at risk and should remain cautious.
---
Testing
The Macon County Health Department offers free rapid COVID, Flu, and RSV testing for symptomatic individuals.  You must call ahead for an appointment and will stay in your vehicle for testing.  MCHD will call with results the same day and positive results are reported to the state.
Individuals who are showing signs and symptoms should be tested and should quarantine while waiting for test results.  Symptoms may take up to 14 days to show, this is why testing criteria are put into place and a person who has had possible exposure must self-quarantine for 14 days.  Individuals who are fully vaccinated do not have to quarantine as long as they are not showing symptoms.
Even if you are fully vaccinated, you may be tested 5-7 days after exposure to see if you test positive.
You may be required to test for COVID-19 due to travel or to enter a facility based on vaccination status, please contact them directly to see the requirements.
---
Protect Yourself
Using mitigation tactics in place can help protect yourself and others from COVID-19
COVID-19 vaccines are safe and effective at protecting against severe illness and hospitalization due to COVID-19.  COVID-19 vaccinations have been approved for ages 5 and up.  Booster doses have been approved for ages 6 months and up, 2 months after the last does of the initial series.
Practice social distancing by keeping 6 feet between yourself and others
Stay home when you're sick
Wash your hands frequently for 20 seconds with warm water and soap. If soap and water are not available, use a hand sanitizer with at least 60% alcohol
Clean and disinfect frequently used items daily such as your phone, vehicle, kitchen, bathroom, door handles, light switches, etc.
If indoors, help promote good ventilation by opening the window, if possible
Wear a mask in indoor public spaces that is well-fitting and covers the mouth and nose. Everyone over the age of 2 should wear a mask.
Get tested for COVID-19 if you are experiencing symptoms or have been exposed.  You could also consider testing before an indoor gathering or large event to help protect others.
Cover your mouth and nose when you cough and sneeze
Source: CDC
---
If You Test Positive for COVID-19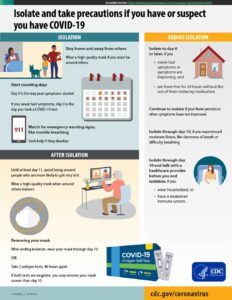 A Health Department employee will contact you when we get your positive test results from where you were tested.  If you were tested at a pharmacy or did a self-test, you may self-report the positive.  If you test positive over the weekend, a Macon County Health Department employee will contact you the following week.
If you have any health conditions or medical questions, please contact your physician or urgent care.  If severe, call 911 or go to the emergency room.
As of January 4, 2022, the CDC has updated the recommendations for isolation for someone who tests positive for COVID-19.  The CDC recommends after testing positive, isolate for 5 days (day 0 is when symptoms started).  Isolation can end after 5 days if the person who tested positive is fever-free, without the use of medication, and symptoms have improved.  They should continue to wear a well-fitting mask around others for 5 more days, avoid people who are immunocompromised and in high-risk situations, do not travel, and do not go somewhere they cannot wear their mask (like a restaurant or gym).  If you tested positive without symptoms, the same recommendations apply, except day 0 would be the day you tested positive).
The CDC recommends staying home, away from others to help prevent the spread of COVID-19 to others.
Stay at home. Do not leave your home except to receive medical care if you need it.  Do not go to public places.
Stay in touch with your doctor and the local health department.  If symptoms get worse or you need to leave your home for medical care, call ahead to let them know.
Separate yourself from others in your home as much as possible.  This will help prevent infecting others in your home. Keep in a separate room and make sure shared common areas, such as the bathroom and kitchen, are frequently cleaned.   Do not share objects such as dishes, cups, eating utensils, and bedding as others in your household and wash thoroughly.
Practice good hand hygiene.  Wash your hands for 20 seconds with warm water and soap frequently throughout the day: before you eat, when coming in from outside, after using frequently touched objects, before touching your face.
Cough or sneeze into a tissue and then throw it away.
 Clean and disinfect surfaces every day.  Clean the space you are in every day such as a bedroom and bathroom.  Have someone else (if available) clean and disinfect other shared spaces such as the kitchen and the rest of the house.

Clean and disinfect frequently touched objects such as your phone, doorknob, light switches, TV remote, bedside tables, and tablets/computers

Monitor your symptoms.  Keep track of your symptoms and get in touch with your provider if they start to get worse.
If you are caring for someone with COVID-19, know that COVID-19 can be spread through close contact (closer than 6 feet) through respiratory droplets.
Have the person stay separated in the house, if possible. Have them stay in one room, away from others.  Use a separate bathroom, if possible. Avoid sharing cups, plates, eating utensils, towels, and bedding
Have them wear a face mask when around others. If they have trouble breathing so a face mask and are unable to wear a face mask, the caregiver can wear a face mask
Wash your hands frequently for 20 seconds with warm water and soap.  If soap and water are not available, use a hand sanitizer with at least 60% alcohol until you can wash your hands.
Clean and disinfect every day.
Avoid touching your face
Wash laundry thoroughly
Know the signs for when medical attention is needed. Call ahead to your local doctor, health department or hospital if care is needed. If calling 911, let the dispatcher know the patient is positive for COVID-19