January 19, 2023
FOR IMMEDIATE RELEASE
(Macon County, MO) – There has been a change in the response to COVID-19 from the days of the early pandemic as we transitioned to an endemic in February 2022.  An endemic means that COVID-19 is here to stay but that we have some means to combat it.  The Macon County Health Department has continued to track lab confirmed positive cases of COVID-19 that are reported and check-in on these individuals as they navigate their illness.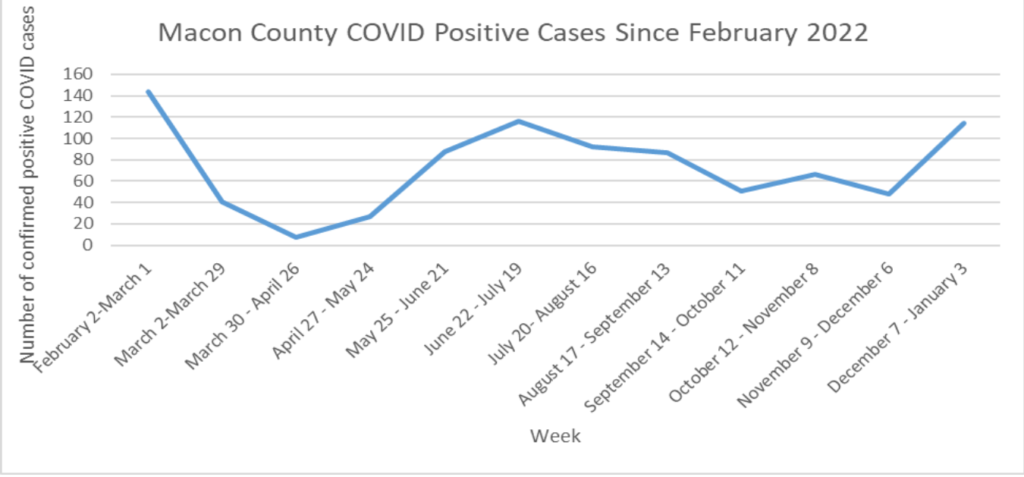 There have been 881 reported cases of COVID-19 in Macon County from February 2, 2022 – January 3, 2023.  Reported cases are lab confirmed positive cases and do not include at-home tests.  There have been ebbs and flows of COVID-19 positive cases throughout the year, along with other illnesses such as flu and RSV.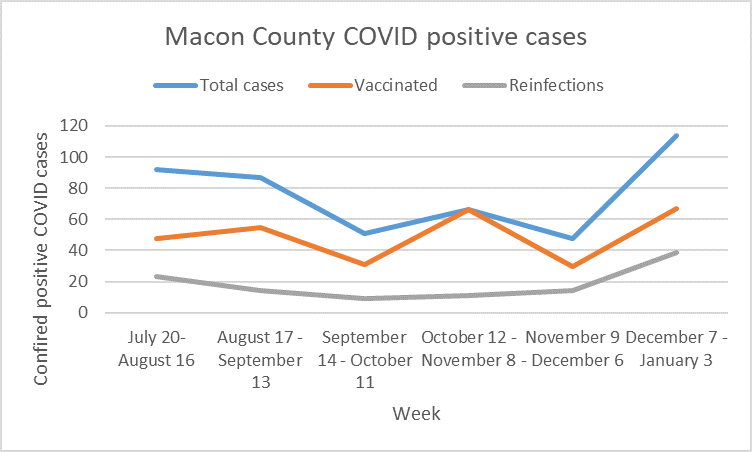 In July, we began tracking confirmed positive cases who were vaccinated against COVID-19 and those who had reinfections.  We began giving the COVID-19 bivalent vaccine booster in September 2022 and since then there have been 5 reported cases of COVID-19 with the bivalent booster, starting the week of November 16th.
The Macon County Health Department continues to provide COVID-19 vaccinations to help reduce severe infection, hospitalization, and death due to COVID-19.  Over the course of 2022, we gave 1,432 Pfizer vaccinations, 2,411 Moderna vaccinations, 180 J&J vaccinations, and 2 Novavax vaccinations.  We have vaccinations available every Thursday for ages 6 months and up.  The CDC considers being up-to-date with your COVID-19 vaccinations as having the recommended initial doses and boosters for your age and eligibility.  The bivalent booster is available 2 months after your last dose (initial or booster) and helps protect against the original strain of COVID-19 and the omicron varient.  As your trusted vaccination provider, our knowledgable nurses are available to answer questions, check eligibility, and to help you make the best decisions for you and your family on your COVID-19 vaccination status.
Unfortunately since the pandemic began, there has been 67 reported deaths in Macon County due to COVID-19: 22 deaths in 2020, 26 deaths in 2021, and 19 deaths in 2022.  There has been 1 death in Macon County due to a COVID-19 vaccine complication that has been reported to the Health Department.
Macon County began getting confirmed reports of the flu in September 2022 for the 2022-2023 flu season.  Since flu season began, there have been 7 reported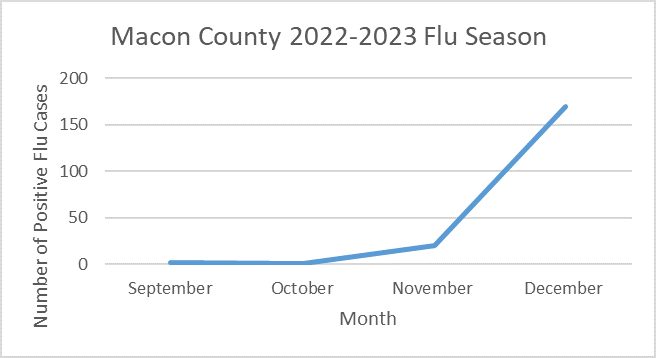 cases of the flu hospitalized and one death due to the flu in Macon County.
The Macon County Health Department continues to provide annual flu vaccinations to help with protection.  Flu vaccinations can help reduce transmission of the illness, reduce severe disease, hospitalization and death due to the flu.  Everyone ages 6 months and up are eligible for a flu vaccination.
COVID-19 and flu continue to have a significant health effect on certain residents in our community; it is our role to promote health and health education among all of our community. Testing for COVID-19 and flu, at home or at a facility, continues to be important so individuals are aware they are positive, they can take the necessary precautions to avoid spreading COVID-19 and the flu to others.  The Macon County Health Department offers free COVID-19, RSV and flu testing for individuals who are symptomatic by appointment only; testing will take place in the patient's vehicle and they will be called with results.
We continue to recommend everyone stay home when they are sick, wash their hands frequently, and use ventilation when appropriate indoors.  If you are interested in your COVID-19 vaccination, bivalent booster, or flu vaccination, we have those available as your trusted vaccination source.  Call for any appointment or more information at 660-395-4711 or visit our website for more information at www.maconmohealth.org.