School Health Services plays a crucial role in your child's comprehensive health. The Macon County Health Department works with public and private schools to provide health services intended to minimize health barriers to learning.
Our trained staff helps students, pre-kindergarten through 12th grade, obtain safe and necessary county-wide school health services through technical assistance and health services guidance. We address day-to-day student needs, emergency needs, and in-school management of chronic conditions like asthma, diabetes, epilepsy, and others. It is our goal to keep students healthy and in class in order to obtain continued education.
Some of our specific services are: flu vaccinations; dental screenings; evaluation of all children's health history, health screenings, development of care plans as needed; age-specific educational classes such as Hygiene, Puberty, First Aid and CPR.
The Macon County Health Department is proud to serve as a medical resource in the development of policies and procedures in Macon County Schools. Our trained staff collaborates on issues impacting the care of children in Macon County. We work with area schools to promote adherence to health guidelines as outlined by the State of Missouri. Please call 660-395-4711 for more information.
---
Quick links for school health:
Back to School Immunizations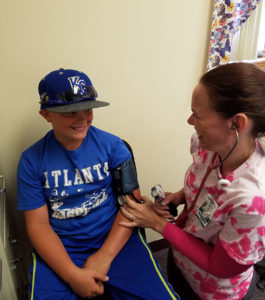 Health Inventory Questionnaire