Every person who has been in direct contact with a person positive with COVID-19 or has had exposure will be asked to quarantine. Direct contact is someone who has been within 6 feet for a prolonged period of time with the infected person or would have been exposed to respiratory droplets from coughing or sneezing.
Macon County Order of Quarantine & Isolation
Quarantine separates and restricts movement of people who were exposed through direct contact to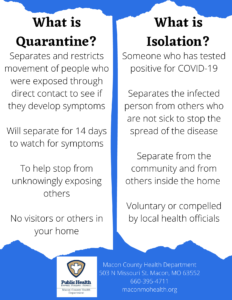 see if they become sick.  Symptoms can develop 2- 14 days after exposure, so quarantine will last 14 days from the date of possible exposure. Quarantine does not end early with a negative test. This preventative measure can help stop someone from unknowingly passing on the virus to others.  If a person chooses to be non-compliant with self-quarantine, the quarantine may be ordered and non-compliance is punishable as a class A misdemeanor.
If you are tested for COVID-19, you should quarantine yourself until you get back results.
Isolation separates infected people from non-infected people. This can be done voluntarily or mandated, and if broken is a class A misdemeanor.
During quarantine and isolation –
Stay at home. Do not leave your home except to receive medical care if you need it.  Do not go to public places.
Stay in touch with your doctor and the local health department.  If symptoms get worse or you need to leave your home for medical care, call ahead to let them know.
Separate yourself from others in your home as much as possible.  This will help prevent infecting others in your home. Keep in a separate room and make sure shared common areas, such as the bathroom and kitchen, are frequently cleaned.   Do not share objects such as dishes, cups, eating utensils and bedding as others in your household and wash thoroughly.
Practice good hand hygiene.  Wash your hands for 20 seconds with warm water and soap frequently throughout the day: before you eat, when coming in from outside, after using frequently touched objects, before touching your face.
Cough or sneeze into a tissue and then throw it away.
 Clean and disinfect surfaces everyday.  Clean the space you are in everyday such as a bedroom and bathroom.  Have someone else (if available) clean and disinfect other shared spaces such as the kitchen and rest of the house.

Clean and disinfect frequently touched objects such as your phone, door knob, light switches, TV remote, bedside tables, and tablets/computers
For an updated list on recommended cleaning practices, visit the CDC website on Cleaning and Disinfecting

Monitor your symptoms.  Keep track of your symptoms and get in touch with your provider if they start to get worse.
The CDC states "At this time, there is no evidence that animals play a significant role in spreading the virus that causes COVID-19. Based on the limited information available to date, the risk of animals spreading COVID-19 to people is considered to be low" so pets can remain in the home during quarantine and isolation. For more information, visit the CDC site for If You Have Animals.
If you are caring for someone in isolation, know that COVID-19 can be spread through close contact (closer than 6 feet) through respiratory droplets.
Have the person stay separated in the house, if possible. Have stay in one room, away from others.  Use a separate bathroom, if possible. Avoid sharing cups, plates, eating utensils, towels and bedding
If available, have them wear a face mask when around others. If they have trouble breathing so a face mask and unable to wear a face mask, the caregiver can wear a face mask
Wash your hands frequently for 20 seconds with warm water and soap.  If soap and water are not available, use a hand sanitizer with at least 60% alcohol until you can wash your hands.
Clean and disinfect everyday. For an updated list on recommended cleaning practices, visit the CDC website on Cleaning and Disinfecting
Avoid touching your face
Wash laundry thoroughly
Know the signs for when medical attention is needed. Call ahead to your local doctor, health department or hospital is care is needed. If calling 911, let the dispatcher know the patient is positive for COVID-19
For more information, visit the CDC's website for staying home when sick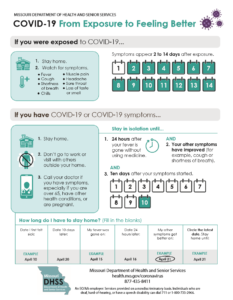 The Health Department will release individuals from isolation when they have met the CDC requirements to be released. A person must meet ALL three requirements in order to be released, so the timeline may look different for each individual.  The three requirements are –
Fever free for 24 hours without fever reducing medication
Symptoms have improved
At least 10 days since symptoms started
To learn more about recovery and/or ending home isolation
---
December 14, 2020
Subject: DHSS Statement on Newly-Modified CDC Guidance Regarding COVID Quarantine for Asymptomatic Individuals
The Macon County Health Department Board of Trustees has voted to adopt most of the CDC guideline for asymptomatic individuals as written in the DHSS statement document provided to public health agencies on December 7, 2020 by Adam Crumbliss, Director of the Division of Community and Public Health.
Regarding early release from quarantine, the Board of Trustees voted to adopt: End to quarantine after the completion of 10 full days for ASYMPTOMATIC individuals, provided that monitoring continues throughout the full 14 days and, if a symptom develops, the individual immediately isolates and contact a public health authority or healthcare provider.
The Board of Trustees also voted to use the County Action Plan risk advisory to determine the implementation date of when this guidance will be enacted.  Macon County Health Department routinely monitors the county's 7-day case rate and 7-day positivity rate from the ShowMe Strong dashboard.  As of this date, the county is still in Category 1: Extreme Risk with a 7-day positivity rate of 21.7% and 7-day case rate of 231.5 per 100,000.  Both data sets are required to be in the same category level to move down to a lower tier as demonstrated on page 2 of this release.  Enactment date of this guideline will depend on Macon County's ability to reach the Category 3 County Action Plan tier and maintain this level for 7 days, as recommended in the DHSS December 7 statement document and detailed in the DHSS State of Missouri Public Health Warning guidance issued by the Governor's office on November 19, 2020.
Both documents, the Governor's Public Health Warning and the DHSS Statement on Newly-Modified CDC Guidance are attached to this release, for clarification.
Health Department Board of Trustees voted not to adopt the 7-day test out option.