Health is being free from illness or injury.  There are some choices in our lifestyle and medical decisions that can have a positive impact on our health to help prevent illness and injury.   Vaccinations have had a substantial impact on the health of our society, helping eradicate diseases like smallpox.  Vaccinations are continually studied to ensure their safety.  Scientists are continuing to develop new technology to be used if it is ever needed, which is how the COVID-19 vaccine was developed so rapidly.  Technology and scientific improvement have even helped reduce cancer risk through the hepatitis B and HPV vaccines. Eradicating disease help members of our community live longer, avoid preventable life-long side effects from these diseases and allow for a more productive society.
Call and speak to one of our nurses or our nutritionist for more information on how you can lead a more healthy lifestyle at 660-395-4711 or request an appointment online.
Vaccination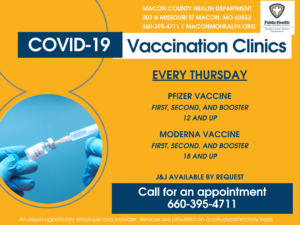 The COVID-19 vaccines are the best way to prevent severe illness, hospitalization, and death due to COVID-19.  Data shows that those who are unvaccinated have a greater risk of testing positive and dying from COVID-19 than those who are vaccinated.
Booster doses help improve the body's response to fight off the COVID-19 virus, should you become infected.  The recommendation to get a booster vaccination is based on the evidence that the booster dose helps improve immunity over time after the initial series.
The Pfizer COVID-19 vaccine has been fully approved by the FDA.  It has been fully approved for ages 16 and up, and approved for use under emergency use authorization for ages 5 and up.  This vaccine requires 2 doses, 21 days apart.  It is recommended to receive a booster dose after 5 months for those 12 and up.
The Moderna COVID-19 vaccine has been fully approved by the FDA and is available for ages 18 and up. This vaccine requires 2 doses, 28 days apart.  It is recommended to receive a booster dose after 5 months.
COVID-19 vaccines are provided at no cost for all.  The Health Department is allowed to bill your insurance for an administration fee, to help us cover our cost of giving it, which is why we ask individuals to bring an insurance card if they have it.  That cost will never be passed on to you and whether you have insurance will not affect receiving the vaccine.
The Macon County Health Department holds COVID-19 vaccine clinics every Thursday, with Moderna and Pfizer vaccinations for first, second, and booster doses available.  Call for an appointment at 660-395-4711 or request an appointment online.  For your appointment, we will ask you to bring your vaccination card (if the second or booster dose), an insurance card (if you have it), and a photo id.
COVID-19 Testing
COVID-19 testing is an important tool in slowing the spread of COVID-19 by letting individuals know when they are contagious to reduce the chance of spreading it to others.
Individuals can request free COVID-19 tests to have at home when they need them.  These are great to use if symptoms suddenly start or to take before going to an event with others in case you might be asymptomatic.  Using at-home tests can be especially helpful for those particularly vulnerable to getting sick like the immunocompromised and those unable to get vaccinated, which currently includes everyone under the age of 5.
In Macon County, individuals can get a COVID-19 test at Samaritan Hospital, Urgent Care, local doctor's offices, and local pharmacies.  Prices and appointments vary by location, call them directly for the most current information.
Stay Home When You're Sick
Staying home from work, school, social events, and family functions is a vital way to reduce the community's spread of an illness.  Staying home when sick helps prevent spreading the cause of illness to others.  If you are not around others when you are sick, then others are not able to catch the bacteria or virus causing the illness.
Lifestyle Habits
Eat Healthy – Make every bite count by filling your plate with a wide variety of foods at each meal –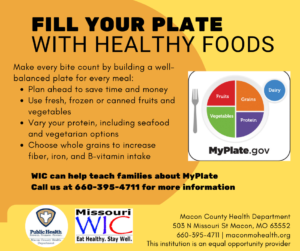 Lean proteins – seafood; meat, poultry, and eggs; beans, peas, and lentils; and nuts, seeds, and soy products
Fruits – a wide variety can include apples, bananas, oranges, kiwi, peaches, plums, avocados, grapes, berries, and many more
Vegetables – a wide variety can include tomatoes, broccoli, cauliflower, carrots, squash, potatoes, corn, peas, radish, leafy greens, peppers, and many more
Whole grains – bread, rice, oats, cornmeal, barley, cereal products, and pasta
Low-fat dairy – milk, yogurt, cheese, lactose-free milk, and fortified soy milk and yogurt.

Non-dairy sources of calcium include calcium-fortified juice and plant-based milk, canned fish, tofu, and some leafy greens
Eat a rainbow of fruits and vegetables daily to help increase your intake of all vitamins and minerals – this means simply to add color to your plate – the more colors the better!  Plan ahead to help save time, money, and the nightly question of what to make.  Fresh, frozen, and canned fruits and vegetables are all great choices – the most important part is adding more of them to your diet.  Most adults need 5 servings of fruits and vegetables per day.  Are you reaching that?
Need some help with healthy eating? Our nutritionist is available to you as a free service of the Macon County Health Department.  Call for an appointment at 660-395-4711
Physical Activity – Regular physical activity can improve mood, help you maintain a healthy weight, reduce stress, improve sleep, and reduce your risk of chronic diseases such as diabetes and high blood pressure.  It is recommended for adults to get at least 150 minutes of moderate physical activity per week and at least 2 days of muscle-strengthening exercise per week that works all the major muscle groups.  If you have chronic health conditions, be sure to talk with your doctor before starting any exercise program to be cleared for physical activity.  Do whatever kind of physical activity that you enjoy and that you will continue to do each week.
Preventative Screenings – Having a yearly check-up with your primary care physician is important, even if you are in good health.  Preventative screenings can help catch conditions before they begin or in the early stages where they are more treatable and manageable.  Preventative screenings could be for diseases like diabetes, hypertension, and cancer.  The American Cancer Society outlines when you should receive cancer screenings based on age and your primary care provider can provide recommendations based on health and family history.
Sleep – Sleep is important for your body and immune system to function properly.  When we sleep, our body produces cytokines, which target inflammation and infection, to create an immune response.  Most adults need 7-10 hours of sleep per night.  Focus on improving sleep hygiene by turning off phones, TV, and computers an hour before bed, sleeping in a dark room, and being consistent in your bedtime routine.
Stress Reduction – Stress can weaken the immune system.   There can be many causes of stress such as family, friends, work, finances, health, etc. Find a way to reduce your stress such as daily meditation, exercise, more sleep, doing activities you enjoy every day like reading, or creating a mental boundary from work/school in the evening.

Hygiene
Handwashing is one of the easiest things we can do to reduce illness.  Handwashing with soap and warm water removes germs from the hands that could then be transferred to the face when touching it, through food and drinks we consume, and onto objects we touch. Wash your hands for 20 seconds with warm water and soap throughout the day, especially after using the bathroom and before eating.
For more information about our services at the Macon County Health Department or to schedule an appointment, call us at 660-395-4711