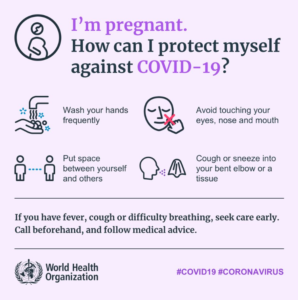 COVID-19 and Pregnancy –
Pregnant women experience immunologic and physiologic changes which might make them more susceptible to viral respiratory infections, including COVID-19. Pregnant women also might be at risk for severe illness, morbidity, or mortality compared to the general population as observed in cases of other related coronavirus infections
COVID-19 and Breastfeeding – UPDATED 3/26/2020
There are still a lot of unknows about COVID-19, however, the CDC still recommends that feeding your baby breastmilk is the best source of nutrition for most infants. The CDC states: a mother with confirmed COVID-19 or who is symptomatic or has had exposure to COVID19 should take all possible precautions to avoid spreading the virus to her infant. This includes: washing hands before touching the infant, and wear a facemask if possible while feeding at the breast.
Pumping with a manual or electric breast pump: the mother should wash her hands before touching any pump part or bottle and follow the proper pump cleaning directions after each use.
Someone who is well could feed the expressed breastmilk to the infant.
———————————————————————————————————–
Human-to-human transmission by close contact with a person with confirmed COVID-19 has been reported and is thought to occur mainly via respiratory droplets produced when a person with infection coughs or sneezes. In limited case series reported to date, no evidence of virus has been found in the breast milk of women with COVID-19. No information is available on the transmission of SARS-CoV-2* through breast milk (i.e., infectious virus in the breast milk).
In limited reports of lactating women infected with SARS-CoV,* virus has not been detected in breast milk; however, antibodies against SARS-CoV were detected in at least one sample.
https://www.cdc.gov/coronavirus/2019-ncov/prepare/pregnancy-breastfeeding.html
March of Dimes – Coronavirus Disease (COVID-19): What you need to know about the impact on Moms and Babies
https://www.who.int/news-room/q-a-detail/q-a-on-covid-19-pregnancy-childbirth-and-breastfeeding